Dear Spartan Families,
This week students wrapped up their projects and spent time working towards getting on track in their classes. More specifically, in English 9, students debated topics ranging from free college to affirmative action. Also in Math I, students explored linear functions by climbing the ladder through self directed tasks. I appreciated seeing all of our students take ownership of their learning as we closed out classes for the calendar year. In our All School Meeting today, we also encouraged students to continue to own their learning over break and take time to study for their Content Assessments and work on their projects so they can keep up their momentum when we return in January.
Also on Friday, students participated in Summit Theater and Winter celebrations in their mentor groups ranging from secret gift exchanges to cookie decorating. We were also serenaded with holiday music by the Sierra Contemporary Band at lunch. Check out the picture below of Ms. Visperas' VIP Mentor Group decorating holiday cookies –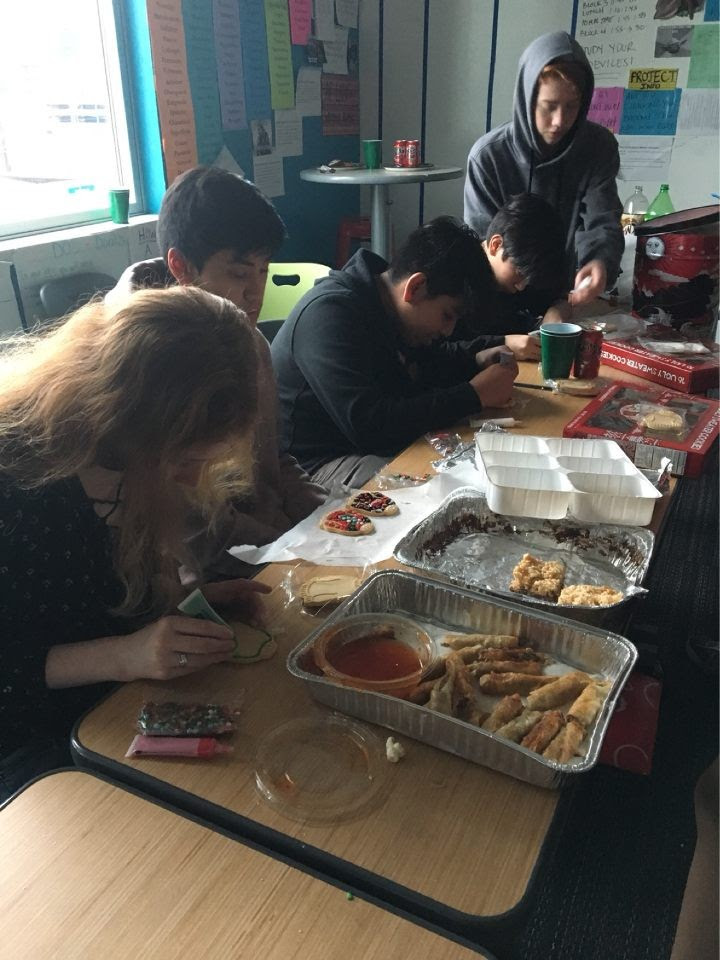 I'd like to wish all students, families and community members a safe and joyous holiday season. I look forward to seeing all of our students back on Tuesday, January 2, 2018 to continue our great year.
Thank you,
L. Denice Randle
Assistant Director
Summit Sierra
UPCOMING EVENTS:
Winter Break: December December 18, 2017 – January 1, 2018
Summit Sierra will be closed for Winter Break from Monday, December 18, 2017 to January 1, 2018. We encourage students to use this time to recharge as well as to study the resources on their SLP at home so they are ready to rejoin classes in January. School will reconvene on Tuesday, January 2, 2018.
State of Our School Address: January 11, 2018
Please join us for our annual State of Our School Address on Thursday, January 11, 2018 from 6:30pm – 8:00pm. We strongly believe in partnering with families to deliver quality education to your students, so we'd love to hear your input on school initiatives, student data, and other outcomes. All family and community members are invited to attend.
Blood Drive: January 26, 2018
Sierra's Activism Club is proud to host our school's first Blood Drive on January 26, 2018 in partnership with Bloodworks Northwest.  Students ages 16 and up will have the opportunity to sign up to give blood during the school day from 9:00am – 3:00pm.  Please contact Ms. Visperas at cvisperas@summitps.org for more information.
2017-2018 FALL SPORTS PRACTICE SCHEDULE:
Basketball Games:
Click here for an updated schedule for Basketball Games
See the school calendar on http://sierra.summitps.org for specific dates.
Please contact Coach James Hampton with any questions or comments. He can be reached at drillsandskills4141@gmail.com. 
Inclement Weather Announcement
As a reminder to all families and community members, Sierra will follow Seattle Public Schools' schedule in the event of inclement weather or school closure. We will inform famliies of inclement weather via email post and our school website will be updated.
Call for Shoe Boxes
Do you have any old shoe-boxes that you could donate to our Physics classroom? Our first project of 2018 will have students designing, building, and wiring a model house. Each student will need a shoe-box or equivalent cardboard as a base for their structure. Any help would be greatly appreciated! 🙂 Check out the picture below of an example Physics Model House Project –
For more information, please contact Mr. Bakke at pbakke@summitps.org.
Donations to Summit Public Schools
The Donate page on summitps.org can now accept one time and monthly donations via PayPal on behalf of the Washington schools! If you would like to make a donation, please follow the links above.  If you have questions about donating, please contact Ms. Randle at drandle@summitps.org.
Core Characteristic Winners
Every week, the faculty submits nominations for students who have exhibited our Core Characteristics and we recognize these students publicly at the All School Meeting on Fridays. Please join us in recognizing the following students for displaying the Core Characteristics this week –
Courage: Sahra Mohamed
When this student was feeling tension between herself and a teacher, she was proactive about the situation. She set up a restorative meeting with her mentor and worked with the teacher to repair their relationship!
Responsibility: Jesus Tornez
This student showed responsibility by working extensively at home on a checkpoint that he missed in class because he was absent. We can all learn from him taking ownership of what he needed to do and working to catch up outside of school.
Integrity: Selah Hull
This student showed integrity by being honest and owning up to the fact that she could have done better in her original discussion in English class this week. She scheduled an outside appointment because she wanted to do even better and raised her grade. We can all learn from how she holds herself to high expectations.
Curiosity: Giorvi Merca
This student showed curiosity this week by going above and beyond to script out his arguments for his debate in English class this week. His thorough preparation showed great curiosity about his position as well as a commitment to going above and beyond the requirements of his checkpoint.
Respect: Sahara Artan
This student has shown Respect this week by being a positive member of her mentor group. She showed respect to her mentor and her classmates by listening and communicating with kindness.
Compassion: Akilah Franklin & Jibrel Isse
These students saw Mr. Vinson frustrated about a big mess at lunch and volunteered to clean it up, even though they had nothing to do with making it and they weren't on clean-up duty that day.
College Corner:
COMMUNITY SERVICE DURING WINTER BREAK
Colleges and scholarships look for well-rounded students who are active in school and outside of school. Help students find volunteer opportunities to do during this break!
Seattle Community Service Opportunities:
SAVE THE DATE!
11th Grade Sierra Family College Night
Wednesday, January 31st | 6:30 – 8:00 PM | Summit Sierra
Workshops and resources for college planning, paying for college, the application process, and more!
SAT & ACT REGISTRATION FOR JUNIORS
Summit Sierra will be supporting juniors in the SAT and ACT registration process for the February ACT and March SAT test. All juniors should take either test at least once during their junior year and again during their senior year. We recommend for students to take either test at least 3 times total or until the ideal score is reached. Fee waivers are available for students with free and reduced lunch. Please check in with juniors for their progress in their Sierra Method Online test prep program. Contact Ms. Nguyen at cnguyen@summitps.org for additional information.
Want to begin the registration process on your own? Please take a look at this PowerPoint for support! https://docs.google.com/presentation/d/1UauYM_aJuR1lWEYOR4Jcbn_ilTQS8e_p6gR364xuTYQ/edit?usp=sharing
SAT & ACT TEST DATES
TEST DATE
TEST
REGISTRATION DEADLINE
February 10
2018
ACT

Jan. 12


(1/19 with late fee)
March 10
2018
SAT only

Feb. 9


(2/28 with late fee)
April 14
2018
ACT

Mar. 9


(3/23 with late fee)
May 5
2018
SAT & SAT Subject

Apr. 6


(4/25 with late fee)
June 2
2018
SAT & SAT Subject

May 3


(5/23 with late fee)
June 9
2018
ACT

May 4


(5/18 with late fee)
AP Testing Information:
11th Grade Families! Please mark on your calendars that the AP US History exam is May 11 at 8AM and AP English Language and Composition is May 16 at 8AM. If you have any questions, please contact Mr. Crook (APUSH) at acrook@summitps.org and Ms. Visperas (APLang) at cvisperas@summitps.org.
Community Resources and Opportunities:
Sierra Contemporary Band:
Sierra Contemporary Band is looking for new members! The band has met intermittently during Fall semester.  They put on a short concert of holiday carols at lunch on Friday the 15th.  The band will continue to meet every Friday(including Fridays during Expeditions) from 3:30 to 5:00 at Summit for the duration of the school year. Chris Littlefield and Amy Denio from the Seattle Drum School are the teachers. The cost is on a "pay what you can" basis so no one should hold back attending for that reason. Instrumental music experience is preferred. Students interested should show up on Fridays at 330 and please email Chris at cornucopia9999@gmail.com if questions. Hope to see you in January!
Global Teen Leadership Summer Programs:
Would you like to study abroad in Mexico this summer?  YMCA of Seattle is proud to present its Global Teen Leadership Summer Program.  The program will take students to Mexico from August 4th – 11th, 2018 to live with families in home stays and complete a community development project.  Sliding scale payment is available based on income level.  Click here to learn more. 
The Service Board:
Each year, the Service Board brings together a group of young high-schoolers and adult mentors from a broad range of academic, racial, cultural and economic backgrounds to engage in a demanding six-month program. Program participants meet twice weekly from January through June, with weekend activities rotating between intensive service learning projects and snowboarding, hence our name: the Service Board.
Music, snowballs, fresh food and a sense of community are the common threads that tie the program together. In accordance with our unique mentoring model, each mentor serves the program rather than an individual teen, giving our students a range of strengths and resources from which to draw. the Service Board emphasizes the importance of youth empowerment and healthy, sustainable decisions to educate tomorrow's leaders.
Please click here to access the application for The Service Board and to learn more.
AMIGOS Program
AMIGOS is a leader in international youth development, creating a world in which young people realize their full potential as leaders and global citizens. We provide extraordinary opportunities for youth to design and lead projects in collaboration with US and Latin American peers and partner organizations across the Americas. The AMIGOS Seattle Chapter recruits, trains, and supports AMIGOS participants and their families from the Puget Sound area.
Interested? Please fill out this form to find out more!  For more information, please contact Ms. McGrath at kmcgrath@summitps.org or Mr. Sobiek at ssobiek@summitps.org.
Piano and Violin Lessons
Laura Choi is a piano and violin teacher who has traditionally taught students coming from low-income households. If you have a mentee who is interested in taking lessons for violin or piano, regardless of their ability to pay for lessons, please reach out to her at laura1choi@gmail.com!
Washington World Fellows Program
Application Deadline: February 16, 2018
Click here to access the application
The Washington World Fellows program is an equity-focused academic fellowship open to 10th grade student applicants in Washington state. Starting in the summer of 2018, the fellowship will consist of a six-week immersive Spanish language study abroad program in Léon, Spain, with a full college-level academic schedule, as well as post-trip college-readiness support. Before departing for Spain, students will attend a series of pre-departure orientation sessions in the spring in preparation for the study abroad program, and after their return, will have access to leadership opportunities and college application assistance through their 11th and 12th grade years.
The overarching purpose of the program is to provide students who may lack access to similar opportunities with an academic and study abroad experience that will support their trajectory into college, enhance their high school academics, and afford them a new sense of global awareness. In order to fulfill that goal, the program will be administered at no cost to students, including airfare.
Up to 20 current 10th grade students will be selected this spring to take part in the Washington World Fellows program. Students must be first nominated by their teachers for the program to apply, and will be selected based on the strength of their applications.
Students will be notified of their acceptance into the program by March 9th.
In order to apply, students must first be nominated by at least one of their high school grade teachers. 10th grade teachers are asked to nominate up to three of their 10th grade students that they believe are likely to gain the most from the program — that is, students who are motivated, but may not have access to similar opportunities. After verifying their nominees' interest, teachers submit students' names to the Washington World Fellows online application. Teachers will serve as a character reference for their nominees, and nominees will be automatically notified of their nomination. Teachers are encouraged to help students fill out their online applications, and help connect parents with information about the program.
Nomination Criteria:
• nominees must be United States citizens or legal residents of the United States
• nominees must be current 10th grade students
• nominees must have completed one year of high school Spanish by the summer of 2018 (or be able to demonstrate elementary conversational Spanish)
• nominees should be academically motivated, but may lack access to similar opportunities
• nominees should demonstrate the maturity to handle a 6-week study abroad experience
• nominees should be motivated to enhance their language skills and demonstrate an interest in travel
Youth in Focus
Location: 2100 24th Ave. S. #310 Seattle, WA 98144
Are you a budding photographer?  Join Youth in Focus!  Youth in Focus is now enrolling for their Winter Session offering classes in digital and darkroom photography.  Classes are 4:30 – 7:00pm either on Monday/Wednesday or Tuesday/Thursday.  Participants may earn service hours for completing the program.  We have had several Spartans participate in this program before, and they have all given high reviews.  Click here to access the application.