Dear Spartan Families,

As you know, our goal at Sierra is to prepare 100% of our student body to be college ready upon graduation. Our juniors this year have taken the next step in getting prepared for college by engaging in our new College Readiness course with Ms. Nguyen. In this class, students have researched future colleges they want to attend and they've started reviewing the admissions requirements for those institutions. I have been so excited to see our students take concrete steps towards getting closer to their college goals. The culminating product of their first project in College Readiness was to produce a student-led college fair where the juniors taught each other about the college of their choice. Please join me in celebrating the hard work and dedication students put into their presentations by checking out the picture below of our First Annual Student-Led College Fair: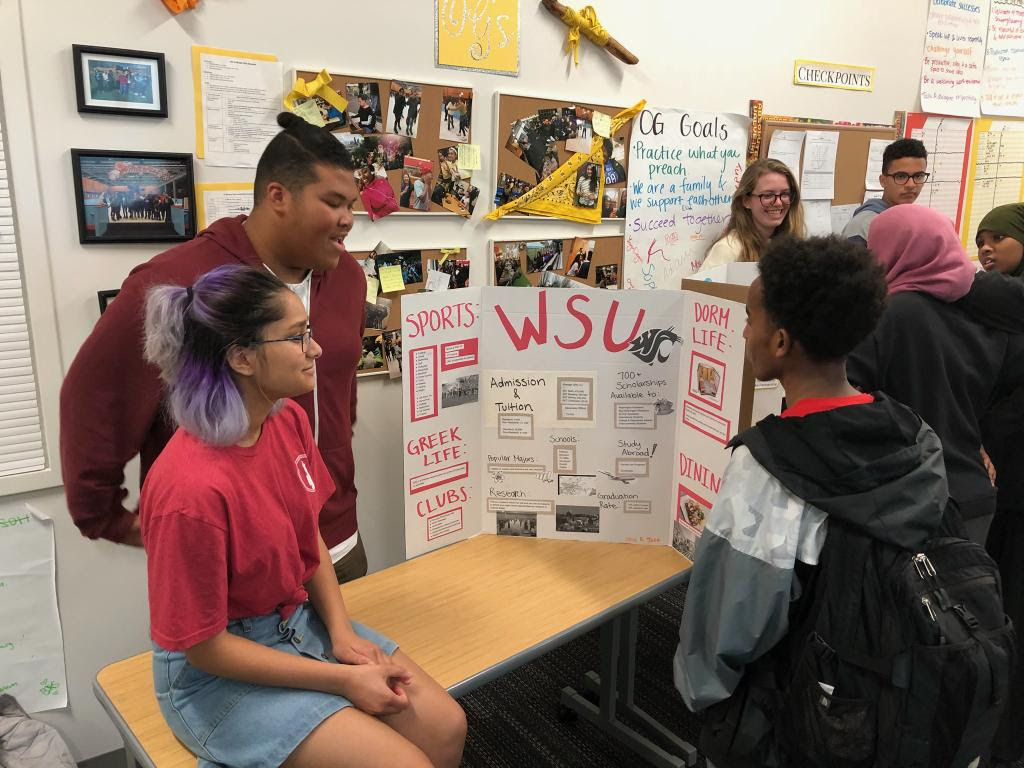 Also this week, many students have taken ownership of their learning and shown compassion for the learning of others. In World History II this week, students learned about the history of totalitarianism and thought about different perspectives on historical figures. I was very impressed to learn that several student leaders stepped up to help create a review Kahoot game for their fellow Spartans which was used across Mr. Irvan's classes this week. I would like to give a huge shout out to Daivan Truong and Charlotte Kallander, two of many student leaders who helped design a review game for their history classes. Not only that, but students in Ms. Temes' Math III class worked together to lead their own review stations for their Math Performance Task. I would like to recognize our budding mathematicians like Zoe Mitchell and Anise Farmer who showed great responsibility in preparing for their Performance Task. Check out the picture of Mr. Irvan and Ms. Temes' classes below:
Thank you,
L. Denice Randle
Assistant Director
Summit Sierra
UPCOMING EVENTS:
Student Club Fair: November 3, 2017
We are excited to announce that many students have shown great leadership by completing their applications to start student clubs at Sierra. Students will have an opportunity to learn more and sign up for clubs next Friday, November 3, during lunch. Clubs that will be presenting during the fair include:
Gender Sexuality Alliance
Muslim Student Association (MSA)
Nintendo Club
Dance Club
Model United Nations
Undefined Beauty Association (UBA)
Chess Team
Debate
Frisbee Club
Black Student Union (BSU)
For more information about clubs, please contact Ms. Tianna at tlopez@summitps.org.
Progress Reports: November 6, 2017
All students will be mailed progress reports based on their current performance in their classes as of Monday, November 6, 2017.  Please note that Summit's grades are year long, so these are interim grades based on their progress so far this year.  If a student receives a grade of "N/A," that means there have been no projects completed yet in that course, so your student has not earned a grade yet.  If you would like to discuss your student's grades or progress further, please contact his or her mentor.
School Closed in Observation of Veteran's Day: November 10, 2017
In honor of Veteran's Day on November 11th, Sierra will be closed on Friday, November 10, 2017.  We will resume back at school on Monday, November 13 for our second round of Expeditions.
East Africa Night: November 17, 2017, 6:00 – 7:30pm
We'd love to invite all of our East African families and community members to our annual East Africa Night on Thursday, November 17, 6:00 – 7:30pm. Families will have the opportunity to learn more about their students' school and connect with the Sierra community.  For more information, please contact Ms. Randle at drandle@summitps.org.
2017-2018 FALL SPORTS PRACTICE SCHEDULE:
Volleyball Practice:
Tuesdays: Yesler Community Center 4-6 p.m.
Thursdays: Garfield Play Field 4-6 p.m. (The Community Center will be the rain plan.)
Basketball Practice:
Location: Yesler Community Center
Time: 4:00pm
See the school calendar on http://sierra.summitps.org for specific dates.
Please contact Coach James Hampton with any questions or comments. He can be reached at drillsandskills4141@gmail.com. 
Inclement Weather Announcement
Seattle Public Schools' schedule in the event of inclement weather or school closure. We will inform famliies of inclement weather via email post and our school website will be updated.
Club Sign Up
This week, we had a successful Club Fair where student leaders advertised, connected, and welcomed new members into their club communities. We encourage all students to sign up for a club by completing the sign up form below before the end of the day on Monday, November 6th. Please note that there is a maximum of 20 students per club. Students will be accepted on a first-come, first-served basis. Students will receive confirmation from club leaders about meeting times and other club activities.
Click here to sign up for a student club
For more information about clubs, please contact Ms. Tianna at tlopez@summitps.org.
Little Saigon Ambassadors Food Drive
Many of our students this year have stepped up as leaders and joined the "Little Saigon Ambassadors" (LSA)–a student activity on campus dedicated to building positive connections with the local community in the Little Saigon neighborhood.  LSA's first initiative is to conduct a food drive for the local food bank run by Asian Counseling and Referral Services.  All students, families, and community members are encouraged to donate canned goods and other nonperishables from November 6th – December 4th.  Students may give their donations directly to their mentor.  At the end of the food drive, the mentor group with the most donations will receive a class prize.
For more information about the food drive, please contact LSA President James Chen at jchen.si@summitps.org or Mr. Dacuan at ddacuan@summitps.org.
College Corner:
We encourage all students and families to dive into the process to prepare for college starting day one of their experience at Summit Sierra.  Please click here to see some recommendations from Ms. Nguyen for what you could do starting now to support your student to prepare for college:
AP Testing Information:
11th Grade Families! Please mark on your calendars that the AP US History exam is May 11 at 8AM and AP English Language and Composition is May 16 at 8AM. If you have any questions, please contact Mr. Crook (APUSH) at acrook@summitps.org and Ms. Visperas (APLang) at cvisperas@summitps.org.
Community Resources and Opportunities:
Free Basketball Hoop
Would you like a free basketball hoop? Sierra is giving away a free basketball hoop to any community member who would like to pick it up from the school. You must pick up the hoop by November 11, 2017 at 5:00pm. After that date, the hoop will be donated. Contact Ms. Randle at drandle@summitps.org for more information.
Youth in Focus
Location: 2100 24th Ave. S. #310 Seattle, WA 98144
Are you a budding photographer? Join Youth in Focus! Youth in Focus is now enrolling for their Winter Session offering classes in digital and darkroom photography. Classes are 4:30 – 7:00pm either on Monday/Wednesday or Tuesday/Thursday. Participants may earn service hours for completing the program. We have had several Spartans participate in this program before, and they have all given high reviews.  Click here to access the application.